Va. Beach Professional Headlight Restoration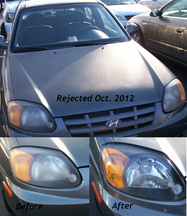 New local vehicle inspection laws will no longer allow faded, scratched, yellowed headlights and lenses to pass inspection anymore. If it doesn't pass the light lumen test (a light meter), it fails. Even if close the inspector can fail it. Like they do with your tire tread or brake pads. If shop revenue is low that day, guess what, they will find something wrong guaranteed. Sound familiar? Headlight Restoration is a new way for shops to generate extra
fees while they have you there. Do not fall prey to these outrageous shop fees. It will cost you over $100.00 in a shop. To replace your lenses can cost well over $100.00. Save money and restore your headlights professionally. Others charge $70.00 and up. The last dealership we called, Checkered Flag BMW, they quoted my dad $221.00.

Be ready before Inspection or you will fail, like this one did. Unfortunately this client brought it us after the fact. Her lights failed inspection, lower left lens, and they were going to charge her $129.00 to restore them. She found us through a friend and we restored the headlights, lower right lens, (for $60.00) and she took it back to get re-inspected to get that ugly pink sticker off the windshield.

---
---
Dull, ineffective headlight lenses are a bigger safety risk than you might think. Clouded lenses can reduce the amount of light illuminating the road by as much as 90%. The oxidized plastic refracts the light that is passing through the lens cover, creating a glare that is distracting to other drivers. Your vehicles headlights should light the road at least 150 feet in front of you. If they do not, you do not have enough advance visual warning to avoid a potentially dangerous and expensive accident.

Pro Touch Mobile Detailing can improve the appearance and function of your headlights by up 87% using our 6 step headlight restoration process. Save yourself the cost of replacing lenses which can be over $100.00 each lens. On average to replace headlight lenses will run over $150.00 just for the lenses, that does not include installation. Mechanic labor rates in Va. Beach average $96.00 an hour. Call your nearest auto parts store and price headlight lens assemblies for your particular vehicle. The next call you make, after hearing the lens prices, will be to us to schedule an appointment.

Headlight Composition

Headlights in vehicles today are manufactured with a polycarbonate plastic because of its durability and strength. Unfortunately it is a very absorbent plastic. As time goes by the lens will have a discolored appearance. They become yellow, cloudy and hazy. This will diminish the headlights ability to properly project light at night or during adverse weather conditions by as much as 90%. Environmental hazards such as rocks, debris, intense heat, UV Rays, and pollution delaminates the external protective film leaving the lens exposed to the elements. If the lens is left untreated the condition will continue to deteriorate quickly.

---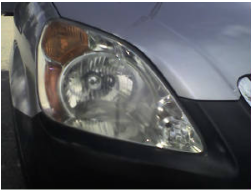 If you were to go to the auto parts store and buy a decent headlight restoration kit it will cost around $25-$30.00, then you still have to do it yourself. What is your time worth ($15-$20 an hour)? If not careful you can ruin the lens and make things worse. We pay attention to the care of your vehicle and the headlights remain on the vehicle during the entire restoration process. Let the pros at Pro Touch Mobile Auto Detailing let you see your way clear. We guarantee our work or your money back.


---

Pro Touch Mobile Detailing Headlight Restoration Rates:
We beat most competitors price for the same vehicle by about $15 to $20.00.or more.

Mid to Full Size Car: $60.00
Mid-Size SUV Trucks/Vans: $65.00
Full Size SUV/Trucks/Vans: $70.00
Add $20.00 for dual headlights
---
| | |
| --- | --- |
| Prices & Services are posted here 24/7. Each service has a detailed explanation of what is entailed and the rate for each size vehicle. | Schedule appointment here Securely 24/7. Don't procrastinate spots fill quickly. Schedule now. |

| | |
| --- | --- |
| Check out our back up site for a collection of reviews from around the web. | More photos on our Facebook page or visit our back up site. |

Short on cash? No sweat, just use your card or check.

Don't wait until payday. We make sure your ready for your Friday night date then your off for the weekend filled full of excitement. Call or Schedule your appointment now Spots go fast.
Doing our part to keep Hampton Roads Spotless!!! One vehicle at a time.

Serving Va. Beach, Norfolk, Chesapeake, Va.
We accept Visa, MC, Discover, Debit Cards and Business/Personal Checks with (With proper i.d.)


---
Copyright© 2012 Pro Touch Mobile Detailing Va. Beach, Va., www.protouchmobiledetail.com, All Rights Reserved.