Pro Touch Mobile Detailing Online Appointment Form
Please fill in the online appointment form, the information is needed for the paperwork.
All full detail jobs must be started in the morning as early as possible. If using our express services we need sufficient day light left WHEN WE FINISH, so as the client can inspect the vehicle.
Your privacy is of utmost importance to us. The information you send, via SSL, is for the purposes of scheduling only and will not ever be shown, sold, or shared with anyone, PERIOD!! You will receive a email confirmation within 4 to 6 hours once you submit your appointment request, sometimes sooner. If not call or text us.
If you have any questions or if you do not receive a confirmation email from us with 8 hours of scheduling please contact us at
info@protouchmobiledetail.com
or call/text 757-362-8504.
---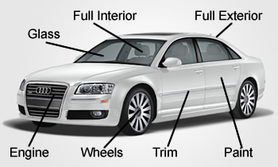 "If the work is there, we don't care. We will be there 7 days a week."
Schedule appointments Monday thru Sunday.
(Spring/Summer 0700 - 1600) (Fall/Winter 0800 - 1500)
Servicing Va. Beach, Norfolk, and Chesapeake Va. Only

Please Do Not Schedule For the following Dates
(02/17, 18, 19/2018) are Booked Solid

---
---
Please read and understand our Terms and Conditions
By clicking submit, above to the left, you agree to the terms and conditions.
For the purpose of client satisfaction Pro Touch Mobile Detail schedules clients in specific time slots during the week. The failure of the client to give Pro Touch Mobile Detailing 24 hr. notice of cancellation, or give us a courtesy call to change the appointment, is detrimental to the business of Pro Touch Mobile Detailing. Any client who schedules a time slot, appointment or regularly scheduled detailing service acknowledges and agrees that Pro Touch Mobile Detailing reserves the right to charge a cancellation fee of $35.00 if client does not call within 24 hours prior to the time services are scheduled. If Pro Touch Mobile Auto Detailing shows up on location and client or client's vehicle or recreational transportation are not present or do not show up on time for the appointment scheduled, we reserve the right to charge a reasonable service fee of $35.00 for time lost.
Any returned check, for any reason will be charged a $35.00 returned check fee. Only one coupon per visit please.

Short on cash? No sweat, just use your card or check

Doing our part to keep Hampton Roads Spotless!!! One vehicle at a time.

Serving Va. Beach, Norfolk, Chesapeake, Va.

---

Copyright© 2012 Pro Touch Mobile Detailing Va. Beach, Va., www.protouchmobiledetail.com, All Rights Reserved.
pro touch mobile detailing, car wash, Virginia Beach, personal service representative, mobile detail, professional services, automotive reconditioning, detail, VA beach detailer, hand washing, hand waxing, clay treatments, engine cleaning, chrome and aluminum polishing, speed polishing, on-site services, disabled persons discount, Norfolk detail, Chesapeake mobile auto detailing, golden citizen discount, services, on line coupon, set appointment, gallery page, multi car discount, full exterior detailing, full interior detailing, carpet and upholstery shampooing, interior vacuuming, Scotch Guard Protection, leather cleaning and reconditioning, headlight restoration, buffing, compounding, overspray removal, paint restoration, paint sealant protection, oxidation and swirl removal, rust spot removal, scratch removal, sticker and emblem removal, headliner repair, wind deflectors, LED installations, speaker replacement, stereo and alarm nstallations