Buddy Fisher is the owner of Pro Touch Mobile Detailing Va. Beach Va.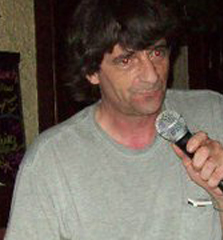 First, let me thank you for visiting our website. I may have brought about a new business name in 2012 but believe me folks I am not new to the business. I have over 15 years experience in the detailing business.
For those of you that do not know me or my reputation as a business person here in the Va. Beach community; I just wanted to give you a little background information about myself, so you will understand why I'm so meticulous about my work.
My company motto is: "Be a job, big or small. Do it well or not at all.

---
In the early years
My father has been in business for himself since I was a small child. When I was old enough to help out, and I don't mean of legal working age either, he would put me right in the middle of a project and would say "do it." He made me try to figure it out myself, of course when I got stuck he would help out. My dad, and lifetime mentor, taught me a lot about troubleshooting, customer service and taught me to take pride in my work. He was tough on the crew's and I. He was hard to work for because he was such a perfectionist. He is why I am so hard on myself and why I am so meticulous about the things I do. Whether it is something personal or for a client. Perfection it is not a habit for me, it is code and a way of life.

After leaving the mobile home business in the mid 80's I was an automotive detailer and body work specialist for the Laskin Rd. BMW/Alfa Romeo dealer in Va. Beach, Va. until they closed their doors in the mid 90's. Dad having the car lot and mobile home lot when I was young taught me a lot about cars. In 1997 through August 26th of 2006 I had a landscaping and handyman business in Va. Beach. Mobile detailing was not to popular around here back then. I took care of not only my customer's landscaping needs but, their household maintenance and automotive repair; and detailing needs as well. You could say I am jack of all trades. Working with my father when I was real young in the mobile home business taught me a lot of different trades and most of all about customer service.

1969 Chevy Chevelle SS
From my dad's mobile home lot at 7 years old started my love for engines, cars and people. I rebuilt and raced cars when I was young. My first car at 15 years old, was a 1973 Dodge Duster. First thing I did was take it to my friends' dads' speed shop and went to town. In 1982, at 17 years old, we took 2nd place for Show and Appearance with this 1969 Chevy Chevelle SS at the Va. Beach Convention Center Car Show. I rebuilt it from the ground up, using parts from three different Chevelle's and a Chiltons manual and a little help from my friends. She was nicknamed "The Ham" by the Creeds Raceway fans. Because when it left the line it generated so much power that the front end would shoot up, it was hard to keep it down. Forget driving it in the rain.
Chevy Monster Big Block Blue Printed, Bored and Stroked.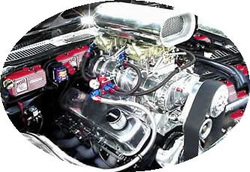 She sported a big block as the power plant that was a Bored, Stroked and Blue Printed SEFI 468ci Stroker engine
627hp with 914.72 lb-ft of torque @ 3600rpm.
It had a Eldebrock intake and a Blower, two Holley 850cfm Double Pumpers carborators, an MSD electronic ignition system. Putting all that power to the pavement was NO problem at all with the Hurst 3 speed slap slick shifter and a 700R4 automatic transmission with a reverse body valve and a transmission shift kit. To drive those tires, I installed a tub-cut Dana 12 bolt posi-traction rear end sporting 3:73 gears and of course traction bars.
---
Late summer 1981, Creeds Raceway (Creeds, Va.)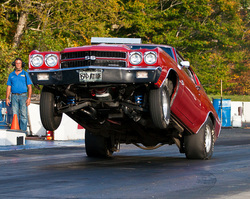 Last race before they closed the raceway down for good. Because of this wheel stand, the corvette I was racing got me on the hole shot. But, this monster ran him down, I blew by him across the line by two and a half car links coming from behind by at least 30 ft. I pulled off a 7.627 sec. @ just over 203 m.p.h. If "The Ham" would not have stood up for applause it would have been a quicker time. What an adrenaline rush!!! Everyone should get to try it at least once.
---
The Fisher household Christmas 1999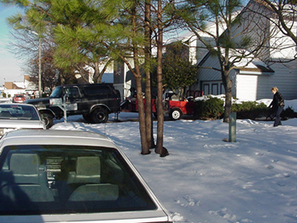 I am a Va. Beach native and have lived here for over 40 years. Of course I went to Elementary, Middle School and High School and attended college (TCC after the stroke) here in Va. Beach. The house, to the right, was my first house in Fairfield (Kempsville area) and we lived there for over 17 years. See the Bronco to the left with the Landscape trailer? That was the last vehicle I rebuilt. That was my second business; landscaping, lawn care, handyman. Some of you may remember Leo Enterprise, Inc.

---
I am not just meticulous about my work but, just about everything else in my life I try to do my best.. It is a way of life not a habit. I make sure anyone working with me is too. I am very diligent; I work smart as well as hard. Most importantly, I am deeply dedicated and passionate about what I do. My passion for the art of fine automotive detailing is replicated in the unimpeachable finish of each and every vehicle I detail. It does not matter which type of vehicle you own, we have the correct techniques and professional detail products suited for your transportation or recreational vehicle, inside and out. They all have to be treated differently, it depends on the type of finish as well as the condition of the finish and the vehicles age.

I want to personally thank you again for visiting our site and for your consideration to let Pro Touch Mobile Detailing tend to all your automotive detailing and vehicle enhancement needs. I look forward to meeting and speaking with you soon. All we ask is you give us the chance to prove ourself.

Pro Touch Mobille Detailing is a place where you are called by your name not a number.
Doing our part to keep Tidewater Spotless, one vehicle at a time.

Sincerely,
Buddy Fisher
Exclusive Operator/Owner


Copyright© 2018 Pro Touch Mobile Detailing Va. Beach, Va., www.protouchmobiledetail.com, All Rights Reserved.
pro touch mobile detailing, car wash, Virginia Beach, personal service representative, mobile detail, professional services, automotive reconditioning, detail, VA beach detailer, hand washing, hand waxing, clay treatments, engine cleaning, chrome and aluminum polishing, speed polishing, on-site services, disabled persons discount, Norfolk detail, Chesapeake mobile auto detailing, golden citizen discount, services, on line coupon, set appointment, gallery page, multi car discount, full exterior detailing, full interior detailing, carpet and upholstery shampooing, interior vacuuming, Scotch Guard Protection, leather cleaning and reconditioning, headlight restoration, buffing, compounding, overspray removal, paint restoration, paint sealant protection, oxidation and swirl removal, rust spot removal, scratch removal, sticker and emblem removal, headliner repair, wind deflectors, LED installations, speaker replacement, stereo and alarm nstallations